Freelance Professionals during Lockdown – a Poll's Results
What started out as a curiosity question, turned out to be a very insightful exercise. I wish to share the results with those who participated, but also those who are interested to know how freelancers within the skills development sector are affected during the mandatory lockdown.
This is in no way a scientific research project or intended to be one. Participation was voluntary and I would like to thank all who participated! Thank you for participating! The poll is still open for participation and you can complete it by following this link: https://forms.gle/xDomirPUHG3Hf1CaA
This poll started when I asked – in my mind – a simple question on a Facebook group dedicated to Skills Development Professionals. I asked if we know how many freelance professional Facilitators, Assessors, Moderators, and SDF (Skills Development Facilitators) we have in South Africa. Somebody I spoke to guessed there could be close to 120,000 – 150,000 of 'us' in this country – a number I reckon could be a good guesstimate.
A couple of responses indicated that it will be interesting to know the answer to the question. Somebody suggested I put out a poll to ask. One specific comment motivated me to put together this poll! Somebody asked:
"Who is asking?"
My immediate answer (which I kept to myself) was – we all should ask the question – so I compiled the poll.
Within the past 36 hours (current date stamp: 2 May 2020, 00:30 am), 177 responses were recorded. I hoped for a bigger response. It was published on about 5 different Facebook groups, some with more than 3,000 members, as well as distributed through a couple of private network connections. Although the uptake seems low (almost 0,14% of a potential 120,000 audience), the results are still shockingly true to my concerns.
The following statistics are in no way scientific results of a formal research inquiry, but simply the results of a curiosity concern about fellow professional freelancers affected by a hard lock down with no end in sight for the skills development and training sector soon.
Results
As of Saturday, May 2nd, 2020 at 00:30 am, 177 responses were recorded. As the poll is still running, results are still coming in. The following is based on the 177 responses recorded.
Figure 1: Freelance Professionals
Freelance professionals represented in this poll varies from a combination of Facilitators (145), Registered Assessors (140), Registered Moderators (83), Skills Development Facilitators (52), Consultants (72) and representing Skills Development Providers (37). A combination of responses was allowed per respondent on all relevant roles they fulfill.
Figure 2: Currently working full time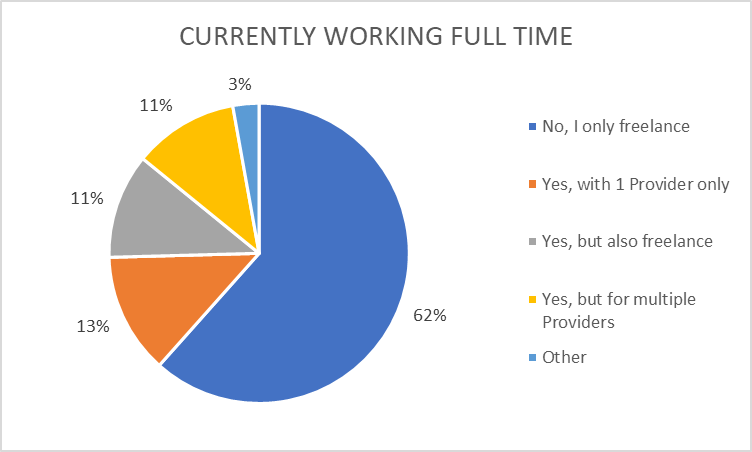 The reality of 108 respondents (62%) is that they are not full time employed and only earn an income through freelance contracts. The other 38% earn income from training providers or a combination of the different options indicated. No Training Provider is allowed to offer any training during lockdown (some are continuing with online and mixed-mode activities), which leave the 38% quite vulnerable.
Figure 3: Earning during lock down
The majority of the respondents (108) only earn an income as freelance professionals. A concerning high 70,6% (125) indicating that they have not earned any income since the lock down. In the previous figure, 38% indicated they are working in different combinations as freelancers, only 1 Training Provider, or multiple Providers. As mentioned above, no Training Institution is allowed training activities. Some respondents indicated that although they are working full time, they only received half or part of their salaries during the lock down period.
Figure 4. Provincial Representation
Almost half of the participating respondents represent Gauteng (84) with the Western Cape (36) and KZN (27) some of the other provinces.
Figure 5. Gender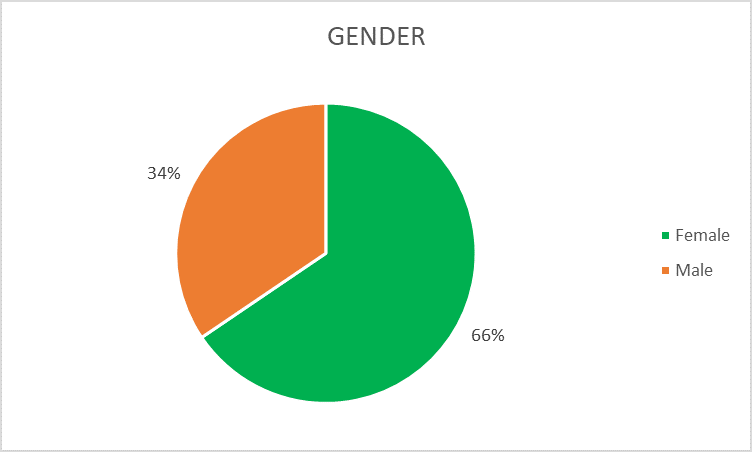 The gender split between males (60) and females (114) indicates that two-thirds of the respondents were females. This was not a compulsory question and 3 respondents did not provide an answer.
Figure 6. Age Groups
The majority (108) of the respondents are between the ages of 31 and 50 with 41 respondents between 51 and 60. With many years of experience, the skills these respondents accumulated over the years can be very valuable during the uncertain period our country finds ourselves in. It will be a shame if these skills are not put to use to contribute to solutions in this time – and as a result, assist these professionals to earn an income to sustain their families.
Figure 7. Race
The split between Black (68) & Coloured (19) South African and White (64) South African respondents with 14 respondents who prefer not to indicate their race.
The comments combined speak of the dier reality freelance professionals funds themselves in during this lock down in South Africa. Although the number of respondents are relatively low, I fear it is an accurate reflection on the income generation realities of the majority.
Concerns
What became very clear this week during public announcements, was that Universities, TVET Colleges, and Skills Development Partners will not open their doors soon. Some people are optimistic and expect to go back to on-site training in September, but with the Health Department's predictions that the pandemic will reach it's peak the same month, it seems most unlikely that any doors will be opening soon.
I fear that there is not a public insight into the unique challenges freelance professionals in the Skills Development Sector faces and the impact it already shows on the possibility to recover. Any contracts agreed on before lock down might either be in danger, put on hold indefinitely, or was already canceled.
My own experience covers all three of these realities, as one SDP I just started facilitating training the week of the announcement of the lock down later that week (rightfully) decided to cancel all contracts with freelance facilitators and only utilise inhouse skills to finalize the project. I had a workshop scheduled with another client which had to be canceled due to the lock down. Part of this workshop would be dedicated to potential new projects to be implemented in partnership. The natural outcome is that this has been postponed indefinitely. Other contracts were just canceled in one-liner emails.
None of these should come as a surprise. But all of these had an immediate effect on Freelancers month-end income planning and cashflow management.
Although nobody is to blame for these realities and losses of freelance professionals, the impact was immediate, without warning, without rules of engagement and with devastating effects on the livelihoods of households.
I know I am describing two-thirds of South African self-employed population.
The one challenge I've had ever since the lock down and announcement of the Government's support to SMMEs and other groups is that somehow Private Colleges (SDPs) are not fitting anywhere, including Freelance Professionals providing services to SDPs. Many of these professionals are operating as Sole Proprietors and might not even have a structured system of paying UIF. This immediately disqualifies them for support from the UIF support option.
As most of these Professionals do not employ other staff, they do not qualify for the TERS relief fund either. Micro entities within the skills development sector with only 1 or less than 5 full-time staff apply to the SMME support funds. Some of the feedback received was: "Please apply to the support provided by the Department of Education", or, "Your entity does not qualify. As we received an enormous amount of applications, we had to make tough decisions to support SMMEs with higher staff numbers to mitigate the impact of larger numbers of potential job losses".
The Minister of Higher Education made it very clear this week that Private Education Entities are private businesses in their own right and should cover and plan for their own losses accordingly. It might seem a relevant response in any other context, but in the bigger picture of what our country is facing, and in contrast to the spirit in which our President has been guiding the nation through this difficult time, there might have been alternative approaches to save EDUCATION in our country.
The minister of Education also made a quick comment about our President's Skills Levy payment holiday of 4 months when he suggested that SETA Grant funding might not be allocated as planned. SETA funded projects represent a large % of SDPs training projects. If Private SDPs are not supported by the Government, and the source of Grant allocations are at risk, what effect will this have on non-governmental Skills Development?
If SDPs fold, freelancers are running short on income generation partners to fall back on after lock down. I do not have the relevant statistics, but I got the feeling over the past couple of years that Private Universities and SDPs are contributing in a huge way to skills development in our country. Many TVET Colleges rely on Private Institutions to partner with them on Government funded training offerings implementation. Do we not cripple Post-School Education?
Freelance Professionals have valuable contributions to make! My curiosity about how many 'others like me' there are provided some information to prioritise this defined sector equally to any other person affected by the mandatory lock down, to be supported.
Together we can influence the Coronairus curve.
Hopefully, we will not forget to mind the curve of people who's total income generation options are wiped…
Update
Thanknyou Sylvia Hammond for this contribution on Skills-Universe https://www.skills-universe.com/groups/training-service-providers/forum/topic/dhet-call-to-private-providers-to-contribute-to-an-integrated-pset-ecosystem/
Matters raised are much needed. Big thanks to APPETD for the work they are doing to voice concerns of Private Providers.